Welcome to Kirsten's Herbal Garden...CALENDULA
Calendula (also called pot marigold) flowers are bright yellow and orange, they are easy to grow and they bloom all spring and summer. Calendula is an amazing herb for SKIN.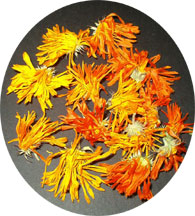 It is easy to dry calendula flowers and they retain their colors beautifully. Just lay the flowers out to dry on any surface, or string them like popcorn strands at Christmas with a needle and thread and hang them in your window to dry.
Calendula is used mostly for skin, it helps heal skin and is excellent in any moisturizing lotion or oil. But you can also use the flowers in tea, or you can put the petals in food, to decorate cupcakes, cheese, etc.

This jar is filled with olive oil and calendula petals. I have had it sitting in the sun on my windowsill for about 2 weeks now brewing. I will open it in a week or two and use it as a fabulous, healing moisturizer for all parts of my body!
Calendula (Pot Marigold) Oil: Fill a jar with pot marigold (Calendula Officinalis) flowers. Pour almond, olive, or wheatgerm oil (or really *any* oil will work, the idea is just that some oils are nicer for skin than others) to cover the flowers. Seal and leave on a windowsill that gets a lot of sun for a month. Strain the flowers out of the oil, then use it as desired.

Calendula seedheads...some freshly picked, some dried for a year...calendula seeds look like little worms. You can dry and store the seeds and seedheads then plant them every spring for new flowers for months.
Beet Red and Apricot Orange Lip Gloss
1 t. beeswax, 1 t. apricot kernel oil, 1 t. calendula oil, 3-4 drops essential orange oil, beet juice
Melt beeswax, add oils, stir, remove from heat, add beet juice, when cool, add orange oil. Store in jar.
I highly recommend Mountain Rose Herbs (click on the banner below)...they sell high quality, fresh, organic dried calendula flowers, perfect for your homemade cosmetics...

Calendula Body Scrub
1/2 c. oats, 1/2 c. rice (brown), 1/4 c. comfrey dried, 1/4 c. oregano dried, 1/8 c. anise seed, 1/2 c. calendula, 1 1/2 c. clay, 1/4 c. myrrh, 1 drop tea tree oil, 1 drop lavender oil.. Grind and sift all ingred except oils until powdery, then add oils and stir well. Store in a jar. To use - add a small amount of water to a t. or so of scrub.
You can use wild herbs for baths. Collect some today! Put herbs in cotton tea bag or cheesecloth and make bath into a giant teabag to soak in! Some good wild herbs for baths are Eucalyptus, Mint, Pennyroyal, Pine, Rosemary, Sage, Calendula, Comfrey, Hens and Chicks, Blackberry leaves, Dandelion, Stinging Nettles...Also, you can add 1/4 c. honey to bath water for a sweet, silky bath.
Calendula Mouthwash
To make mouthwash for sore gums or toothache: boil water, then remove from heat and add any of the following herbs: Rosemary, Sage, Thyme, Lavender, Calendula. Strain.
Calendula for Diaper Rash
Calendula flowers are mild on babies' skin and help heal skin from diaper rash...you can use calendula oil, recipe above, on baby's bottom and genitals.
Calendula for Women's Yeast Infections
Pot Marigold (Calendula Officinalis) Wash: Boil 2 cups water, then take the pan off the burner. Place two handfuls of pot marigold flowers into the water and let steep for 15 minutes. Strain the flowers out of the water and wash the vulva with this liquid for yeast infection irritations.
Calendula Vulva Oil
When vulva tissues are dry and itchy, you can use calendula oil to soothe, nourish, hydrate, and soften the skin.

Day of the Dead ceremonies in Mexico use dried calendula flowers to decorate the graves...
Abbreviations: (t. = teaspoon, T. = Tablespoon, c. = cup)
DISCLAIMER: Do not eat or drink tea from any plant you have not fully studied and identified properly. Please consult with your local alternative herbal care specialist before using herbs you are not familiar with.

Thank you to Resist.ca for hosting this website!