New Books by Kirsten Anderberg!
Vaginas in Mythology, Art, and History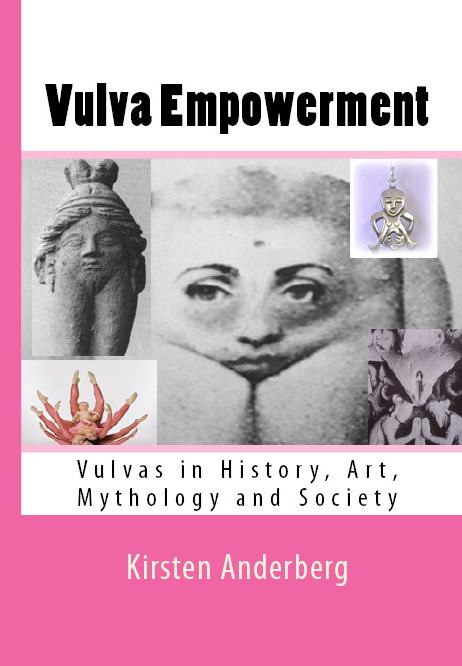 This book examines the relationship between vulvas (women's genitals) and society, history, health, art, religion, politics and more. Vulvic imagery of goddesses Sheela-na-gig and Baubo, in addition to alternative vulvic products such as necklaces, purses and pillows shaped like vulvas, are discussed in relation to women's self esteem. Women's spirituality, religion and gender, herbal remedies for vulvas, midwifery, the "sanitary protection" industry, the psychology of gender, women's mental health and esteem as related to vulvas are all discussed. Especially healing for women with body esteem and genital shame issues.

Order an autographed copy of this book for $3 less than the Amazon list price (without an autograph) using PayPal

$11.99 plus $3 shipping (U.S. addresses only)
Please allow up to 2 weeks for delivery.

Also available as an ebook via Amazon. The ebook edition of this book does not contain graphics. The original book has 51 photographs in it. A PDF of imagery from the Vulva Museum and the paperback book can be ordered for free via email using information provided in the ebook. Click on this small book cover to order the Kindle ebook version for $4.99.
About the Author: Kirsten Anderberg received her B.A. Degree in Women's Studies and Political Science from the University of WA and her M.A. Degree in History from CA State University. She has written articles and taught workshops on women's body esteem and sexuality at various universities and resorts.
(Make sure to visit our Vulva Museum, at http://resist.ca/~kirstena/pagevulvamuseum1.html.)
Kirsten Anderberg. All rights reserved. For permission to reprint/publish, please contact Kirsten at kirstena@resist.ca.

Thank you to Resist.ca for hosting this website!

Return to Home Page