Kirst's SOURCE FAMILY Page

Yahowha, father/founder/creator of the Source family, with Source members, at UCLA, I believe, circa 1970's
The Source Family was an extravagant cult, basically, which had its heyday during the 1970's. Beginning in Los Angeles, relocating to Hawaii, and then returning to Los Angeles, "the Family" has left Source members scattered predominantly on the West Coast of the U.S. and in Hawaii.
IT IS VERY IMPORTANT THAT PEOPLE LEARN ABOUT THE REAL HISTORY OF THIS FAMILY, NOT THE FICTIONALIZED VERSION COMING FROM SOME OF ITS MEMBERS. The family tends to CENSOR anyone who says anything they don't want you to say about the family. But this is my own website and I am not vulnerable to their censorship here. But briefly, there are several problems I have with the Source family. First of all, it appeared very class, race and gender insulated, as in very few people who were not white, middle-upper class and heterosexual. As a matter of fact, the Source was and remains primarily homophobic in my opinion. But the thing that lowered Jim Baker to a mere mortal for me was his situation with women. He married and impregnated women, making 5 children, that he just left to create his "spiritual family." So this irresponsible man did not raise his own children in a present and responsible manner, and now we are supposed to believe he is a spiritual father for all these hippies?! Why couldn't he be a man and raise his first 5 children instead of playing god? Then, to add insult to injury, Jim Baker marries a teen when he is in his 50's and then impregnates her and 2 other women in their early 20's and teens in the family, and then kills himself a few years later...leaving a total of 8 children he did not take care of. I am sorry, but that sickens me.
I would have had Father Yod ARRESTED if he had been lusting after, seducing and trying to statutorily rape my teen child. No problem. And that is something that really does ruin the mythology of Father Yod/Yahowha as any kind of god to me. When old, old men are so immature and ineffective that they cannot be with women their own age, we get old men accumulating young, teen women. And as an older woman, I can tell you I would never go for his bullshit as a mother. So, he needed young, innocent girls, basically...because WOMEN would have called him out on his own shit.
Isis Aquarian is one of the main mythologists involved here. She wants Father Yod to be god so she can have some worth being a wife of god. Plain and simple. But do not believe her lies about the family. DO NOT believe the lie that all of Yahowha's wives had NO JEALOUSY. That is a BOLD-FACED LIE. Isis needs the family for identity, unfortunately...but I think she is trying to lie, too much, about the family. For your information, the Source Family DOES NOT EXIST currently. Anyone telling you it does is most probably trying to get you to do something for them. When I see people like Isis saying the family still exists, out there trying to recruit people to some set up where she is a matriarch, I cringe. No, the family does not exist anymore. What does exist is a network of people trying to make money off of and trying to get some sort of celebrity off of the Source. It is dangerous to get involved with Source members who pretend it is a current institution, especially if you are a woman.
Uninterested in the grissly soap operas contained in the Source book and documentary by Isis, I have published a book of the Source TEACHINGS, which are the only salvagable part of the family at this point. It seems Isis and others are more interested in telling you THEIR Source roles than the teachings. I see no use for the myths and lies about the family's past, such as the lie that when Yahowha crashed and died there was no cause of death listed. That is a lie. He died of internal hemmoraging and probably could have been saved if taken to a hospital. Anyway, if you are simply looking for the teachings, without the personality soap opera, and wayyyyy too much of Isis as the inheritress of God's layout...here is a simple book I put together of the teachings, which do still have some merit.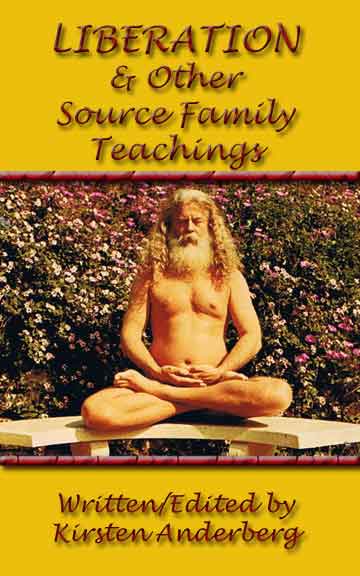 You can buy my new book, "LIBERATION & Other Source Family Teachings" on Amazon! The Source Family was a spiritual experiment which some call a cult, from the 1970's. They ran a popular health food restaurant on Sunset Blvd. in Hollywood and were a part of the West L.A. spiritual awakening of the time. This book contains an entire transcription of the original "bible" of the Source Family written by its leader, Father Yod, entitled "Liberation," in addition to many other Source Family teachings. In addition to the book of Liberation, this book also contains instructions for Yahowha's Daily Menu, the Center Exercise, the Star Exercise, the Ring of Fire Protection Ritual, Instructions for use of the Sacred Herb, The Pledge of the Disciple, Morning and Evening Prayers, The I AM Prayer, Source Restaurant/Family & Raw Foods Recipes, the 7 Planes, the 20 Cosmic Laws, the Condensed Book of Thoth, the 6 Rules of the Road White Magicians Must Follow, the 7 Hermetic Principles, Source Family Member Names, and additional Source Family Resources. All materials in this book come from the personal archives of a Source Family member. Cost - $5.99. This book is in the Kindle format, but if you do not own a Kindle, you can download these books for other technologies such as iPhones, iPads, or personal computers instead.
THE THREE WORST THINGS
To wait for one who comes not
To try to please and please not
To love one who loves not

Back cover of the record album, To The Children
There is an original copy of the Source Family's book "Liberation," in Seattle's "As You Like It Library" at 915 E. Pine, Room 401, Seattle, WA., 98122. It was donated to the library in April 1977.

Aquarianna, one of my favorite Source sisters. She gave me her diary from when in the Source Family, to keep it away from the other members' feeding frenzies around personality.
I lived with and was a Source member in the mid-1970's into the 1980's, and still considered myself a member of that family in some ways until 2013, when I found their behaviors too ridiculous and their mythologies too thin to follow any more. My son has the Source family last name as his legal name, and I attribute my healthy birth and healthy baby to Source family health advice when I was pregnant and thereafter. I taught my son many of the things the Source taught me and their health knowledge was truly invaluable to me and my son this lifetime. I have saved Source documents, photos, records, books, etc. that have come my way over the last 30 years, and I also have my own personal journals where I wrote down daily lessons, etc. I saved these things with the idea of later archiving them somewhere, in a book or something. This webpage is the beginning of that archiving process.

A Source Restaurant Menu, circa 1995, long after the Family had sold the restaurant, but with original Source Family artwork still on the menu...
The Source ran a successful restaurant at 8301 Sunset Blvd., in Hollywood, CA (you will notice this is the address given on Yahowha's driver's license below). The restaurant featured elegant raw and health food meals and catered to an upscale Hollywood crowd for decades. The Source Restaurant finally went out of business in the late 1990's, and it was sad to see the landmark go. One of the Source Restaurant's most popular salads was the "Aware Salad," which was a salad in a huge bowl, featuring lettuce, grated beets and carrots, red cabbage, alfalfa sprouts, sunflower seeds, pine nuts, cucumbers, tomatoes and avocado. In the 1990's, I used to like getting their brown rice pancakes for breakfast, and their "Peasant Lunch" (a bowl of soup, apple, and cheese) in the afternoons. For dinner, I liked their "Aware Salad." I also really liked their iced hibiscus tea and the "High Potency Drink" which had orange juice, banana, wheat germ, honey and egg. I have included some Source Restaurant and Source Family recipes in my new book on Source Family Teachings.

Yahowha's CA. driver's license

Mercury with Yahowha, father/founder/creator of the Source family, in Hawaii
"Why seek any further without for that which lies within?" - Father Yod/Yahowha
The Source were outside to greet the sun rising every morning and also liked to gather together for sunset, as well. The Source daily regiment began with a 3-4 am wake up call, a cold 3 minute shower and hours of morning yoga lessons, tarot lessons, spirituality and nature lessons...by sunrise, we had been up a while and would all go out to greet the sun, chanting and holding hands. We also would meet at the beach in Venice often to chant together as the sun went down. Those are some of the cherished moments in my lifetime.

The Source in Hawaii, to Yahowha's left is Makushla, Harvest Moon, Isis, Djin and Astral, I believe...
It is nearly impossible to get words around some of the things I experienced with the Source, thus my continued allegiance in some capacity. They taught me a lot. On many profound levels. But I have my critiques of the family as well. Such as this huge boulder in the road: "Men are to protect and provide, women are to serve and inspire." I have many problems with that. Some of the men in the upper hierarchies of the family still cling to those words literally to this day which is one reason the Source is not hugely popular. It has problems like sexism! Yet the Source also was quite empowering to women, so it is confusing. In the Love Israel Family in Seattle, WA which was modeled after the Source, the women were subjugated horribly, and were even given names like "Submission." In contrast, the Source women were fiery and bullheaded, independent and even empowered. Women in the Source freely pursued higher learning, for instance, where the Love Family told women they only needed to know three things, the 3 rules were Love Israel's motto: The time is now, Love is the answer, and one other one I cannot remember...obviously, I was not impressed with the Love family at all. I took not one thing I learned at the Love Family away with me as wisdom for later life. Yet the Source left me with huge amounts of useful wisdom to live on.

Cover of the record album, Spirit of '76

Yahowha, earlier on the day he left his body, before he went hang gliding that day

Tantalayo

Yahowha playing music with a small shot of Sunflower on the right...


The Source Family valued music highly and improvisational music was a centerpiece of morning meditations. Many professional musicians came to the family, including Andre Previn's daughter who played violin and had the Source name "Lovely," Sky Saxon of "The Seeds" who was known as "Arlich," a guy from "the Electric Prunes" known in the family as "Ibis," etc. Since the Source was located in Hollywood, it had many famous friends, including Bud Cort from Harold and Maude fame, among others.

SOURCE WISDOM

"Doubt is that little thing you give yourself so you don't have to do something." - Father Yod/Yahowha

"Prepare yourself to contain a high voltage nervous system" - Father Yod/Yahowha

SOURCE ARTICLES

"Father Yod Knew Best" article in LAWeekly August 2007

"Tapping The Source," article in LAWeekly, August 2007

"May The Source Be With You," January 2007

"Heavy Living: Father Yod and the Source Family" article in Dusted Magazine

Interviews with Source Family band members in 2002

Cult Group Started A Home Unlike All Others
Kirsten Anderberg. All rights reserved. For permission to reprint/publish, please contact Kirsten at kirstena@resist.ca.

You can receive Kirsten's articles, as they are written, via an email list called "Eat the Press." Go to http://lists.riseup.net/www/info/eatthepress to join the list.

Thank you to Resist.ca for hosting this website!

Return to Home Page