STREET PERFORMING/BUSKING
My main interest here is documenting street performing (aka busking) culture, as it is rarely documented in first person, or third person, for some unknown reason. I was an active street performer, or busker, for 3 decades, I still busk sometimes. But at this point, in 2007, I am working on my Masters degree in History, and I would like to archive the things I saw and photos, documents, etc., that I saved, from various events I performed at and different acts I shared stages with, etc. I have written more articles on women buskers than anyone in history so far, due to being a woman busker. I have a genuine interest in the history of women buskers and am currently doing a research class in college on Women Buskers. If you are a woman busker, I would love to talk to you. Email me at kirstena@resist.ca so we can talk!
New Books on Busking by Kirsten!

This book includes interviews with street performers about a wide variety of topics. This is a unique view of the busker world from the inside.

15 places a busker can perform in the Seattle area without being told to leave!

I have been street performing at the Pike Place Market since 1978
I have been a solo female comedian, musician, and vaudevillian...and I have also performed in swing bands, Motown bands, a cappella bands and vaudeville/comedy groups. I have performed primarily on the West Coast of the US, from Venice and Santa Cruz, CA to Portland, OR to Seattle, WA. The web pages I have posted here about busking are based on my own observations and life experience in the world of street performance from the late 1970's to the mid-2000's...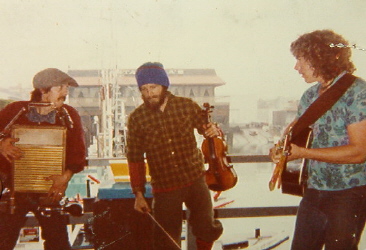 This page is dedicated to Robert Almblade, seen above busking with Crow and Reggie Miles in San Francisco
Tips Street Performers Remember
When I look around my house, I see many reminders of my busker past. I walk into my kitchen and there is the hand-carved face on the broom an OCF (Oregon Country Fair) crafter tipped me, and there is the tile of a nun that a fan brought to my show at OCF, on the countertop...I walk into my living room, and I see hanging by my window, the "mosquito house" (a miniature bird house) given to me by a toy vendor at a fair and I see the wind chimes another crafter tipped me. One of the first things that hooked me on street performing was the non-money tips. I remember quite clearly the first time I received a tip in my guitar case of sea shells and trinkets, rather than money. It was like a revelation. The non-money tips followed me throughout my days as a busker. Non-money tips make life exciting and colorful for a busker. For this article, I asked several buskers "What is the coolest tip in your case, that you have ever gotten as a busker?" (Read More...)

Billy Hultz, infamous washboard player...(circa late 1970's)
Using Buildings and Awnings as Microphones
Acoustic street singing is very different than inside singing, or even singing with amplification via mics. It sounds odd, but I use buildings and awnings as microphones. I have learned over the decades as a street singer, how to aim my voice at different angles off of nearby surfaces and structures to naturally amplify it. Honestly, people who sing on the street but do not have enough projection to be heard are rendered useless pretty fast. I am talking about using structures to fine tune loudness and tone on the street. (More...)

My washboard, a little bare nowadays, once had many things attached to it. Right now, you can see bells from inside an old phone on the right hand side of picture and the chain down the middle is rubbed as a lighter snare effect, for quieter pieces, and there is a customer service bell still attached...you can put all kinds of things on your washboard...and save those thimbles! You will go through them!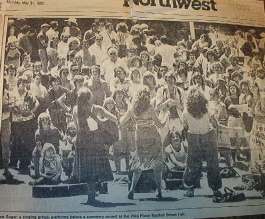 Kirsten Anderberg, Linda Schierman, Becky Woods as Raw Sugar, 1982
Women Street Performers and Sexual Safety
Everyone agrees street performing, or "busking," is hard work. Someone once said about acting, that they do not pay you for the acting, they pay you for the waiting around. That is true in busking, too. Performing talent is about 30% of a good street act. The ability to persevere under harsh conditions, to battle police and merchants over air space, to assert free speech rights at every corner as they are questioned, to spontaneously gather and hold a crowd, and to keep up with hecklers, makes the profession a die-hard one, at best. You spend little time on musical rehearsal, as compared to holding your place in line for a good spot, or "pitch," and then defending that pitch from police when they show up to shut you down. Street performing is not for the weak. And being a solo woman street performer has extra unseen entanglements, due to societal gender stereotypes. (Read More...)

Sandahbeth and Thaddeus Spae (Amber Tide) in the early years...
How To Pick A Street Performer Spot
What makes a good spot to perform on as a street performer, or "busker?" There are several layers to that question. I will address the interpersonal human etiquette side of performing spots, or "pitches," as they are called in street performer lingo, in another article. This is about the actual physicality of choosing street performer spots. For a successful show, one needs a spot where traffic passes, to gather a crowd. But the spot must also not interfere with the businesses around you, or police will be invoked. Obviously, the spot needs to be situated in a way that the sidewalk is maintained as a functioning passageway, while the area around the spot must have the capacity to hold an audience. You need to think, "Could this spot hold about 30 people without interrupting sidewalk flow or access to the doorways of the surrounding businesses?" This may sound difficult, and looking for good spots does consume a lot of street performers' time, but it can be done. You'll find a set back doorway of a closed business. Or some placement of planters, benches and payphones that you can exploit as some kind of street performer feng shui. (Read More...)
"He played real good...for free" - Joni Mitchell
Interacting With Street Performers
The behavior of the public is bizarre as seen through the eyes of a street performer (aka "busker"). For instance, today I was busking a street fair in Seattle, and these yuppie women leaned down and nicely placed their hot pink yoga studio ad upright in my guitar case, as if I am a billboard for them. I said, "Could you please take your advertising out of my case?" and they acted offended! So let's just start right here with Rule #1. Do not throw your trash, or your personal advertisements, in street performers' cases. (More...)

Jeff Kirkpatrick, Kirsten Anderberg, Chad Petersen performing as Seattle Swing, at the Port Angeles Street Fair, 1983
I Wish Everyone Passed The Hat For Their Pay
Street performing (or busking) is one of the most radical economic and arts systems I have seen. It is always walking on outlaw status, it is underground culture (you cannot get it on TV), and honestly, it takes a very bizarre character to stick to the streets long enough to become a professional level busker. Certainly there is no viable academic route to actually working the streets, you cannot learn how to work a crowd via reading or study alone. One of the most genius buskers I know, Steve Clark, has a song about being a professional busker. He says, well, if he did not end up making any money from busking, he at least got to play music all day! Another one of my busking mentors, P.K.Dwyer, one of Seattle's first street performers, has a song called "Alms," about street performing. It says, "You say, you can't accept charity, you say, you wouldn't get caught doing that, But I wish when everybody's day of work was done, we all collected our pay by having to pass the hat." I am with P.K. on that one. For this article, I interviewed buskers about their lives, and what makes them do the crazy shit they do. (Read More...)

This is a photo of Lou Hevly, a busker I met in the Pacific Northwest in the late 1970's. He was very influential on me as a young busker and very helpful and willing to share trade secrets. An excellent performer, and supporter of the arts, Louie now lives in Spain and you can keep up with him at http://visca.com/music/louhevly
Take Back Your Entertainment!
Entertainment is an industry with as much power and influence over our daily lives as any other. There are many ways to reclaim entertainment back from industry; by using local and cultural references and personalizing art, or by learning to use public spaces for educational art, or by creating music venues that are not driven by alcohol sales, etc. We can make our own music, we can write our own comedy, we can support our own venues and agendas. One of the first hurdles an artist usually faces is the dilemma of needing to make money to sustain the art, but dreading making money from things the industry requires artists to do to get paid, such as making "non-offensive" material, or fitting into commercialized conformity. Bar owners want you to sell beer, they do not care what music you use to do it. The same goes for recording industry executives, but they are selling more than beer. I would argue there is a higher calling to art than merely selling a product in capitalism, and we need to liberate that calling, to liberate ourselves. (More...)

Kirsten and Gerd Kettel busking on the Santa Cruz Mall in 1983
Street Performers Talk About Their First Times Busking
I began street performing in Seattle, Wa., at the Pike Place Market, in October 1978, just before my 18th birthday. I had never seen street performers until August 1978, two months prior. I grew up in the sterile Los Angeles suburbs, and although I had the slick music industry at my back door in Hollywood, I was looking for a more holistic approach to performance. I did not necessarily want to get rich, I wanted to relay a message, I wanted to share music. Sick of alcoholic, cigarette-smoking parents, I did not drink alcohol or smoke cigarettes, so bars were not my preferred venue for performance, so, I was actually sort of stifled in my creative abilities, out of not knowing where I could showcase them. My stepmom was a nightclub singer on the L.A. circuit, and although she made good money, she worked in bars, and her work was as much social worker as singer. I just did not want to have to hoist my breasts up in "push up bras," as we called them back then, put on gobs of makeup, and then go tend lonely drunk men in bars who, yes, would tip me, but at what cost to my soul? It sounded like a bad scene from Breakfasts of Champions. Also, I did not want to perform to sell alcohol, I could not breathe in bars due to the thick cigarette smoke, I wanted to perform politics, not some predictable boring sexy blues, and I was underage for most bar venues, anyway.(Read More...)
True art can only come on one condition and that is that the artist forgets himself...in the vision of beauty. - HKhan
What Motivates Solo Women Street Performers?
In 1992 (pre-google days), I spent 3 months in college doing individual study/research on the historical documentation of women street performers. Not only was there nothing on women street performers in library archives, sans a tale or two of women troubadours from long ago, but there was a serious lack of documentation of street performer (or "busker") history altogether. The lifestyles of street performers are romanticized or shamed, but the fact remains: there is a mystique around street performance since so few know who we are, why we became street performers, and why we keep doing it. Solo women street performers are especially mysterious to the mainstream, as we break gender stereotypes. I have started getting firsthand interviews with all the street performers I have known in my 25+ year career as a busker, so that more documentation will exist for students in the future. This article evolved from interviews with two infamous women street performers that I have shared venues with over the decades. (Read More...)
Become A Powerful Woman Street Performer
Some advice to women street performers: 1) Memorize your act, 2) Stand up!, 3) Learn to be loud, 4) Don't be a Linda McCartney!, 5) Don't resort to cheesey signs. 6) Grow emotional armor, 7) Excel at something, 8) Learn to perform clothed, 9) Do not let men choose or arrange your material, 10) Lead, don't follow! Create, don't imitate... (Read More...)
Free Speech Versus Peace Disturbance: A Conflict of Law
Most people do not realize there is an area of law called "Conflict of Law." Laws conflict and this is a specialty area in law, which navigates around laws that hit each other head on in conflict. I live in the swirling world of the "Conflict of Law" between Free Speech and Peace Disturbance/Obscenity Laws. I have been arrested, ticketed and/or charged with property rule violations for obscenity and peace disturbance for busking (or street performing) since 1978, and I have also successfully defended myself from all of those cases/charges in courts or at internal agency hearings. I have had my Free Speech rights reiterated, in writing, by judges and city management agencies, time and time again after said conflicts. Yet this fight continues on, almost daily, as I continue to busk well into my 40's. I guess people thought I would either outgrow political activism or busking, but I actually just came to do them better and more often with age instead. Which means they have to get better at finding ways to stop me, as well. (More...)
STREET PERFORMERS RESOURCES/LINKS
* Performers.net/Busking
* Street Performer Resources
* Street Arts and Busking
* Present Day Street Performers
* Busker Laws
* Tips/Hats/Bottling
* Gathering A Crowd
* Busker History
* Portland, OR Saturday Market
* Eugene, OR Markets
* Venice Boardwalk

You can receive Kirsten's articles, as they are written, via an email list called "Eat the Press." Go to http://lists.riseup.net/www/info/eatthepress to join the list.
Kirsten Anderberg. All rights reserved. For permission to reprint/publish, please contact Kirsten at kirstena@resist.ca.

Thank you to Resist.ca for hosting this website!

Return to Home Page